This fragrant and hearty honey oat sourdough bread will become a fast family favorite.
Whether you shape it as a batard or boule, it's sure to be requested again and again. You'll love the recipe variations explored in this recipe.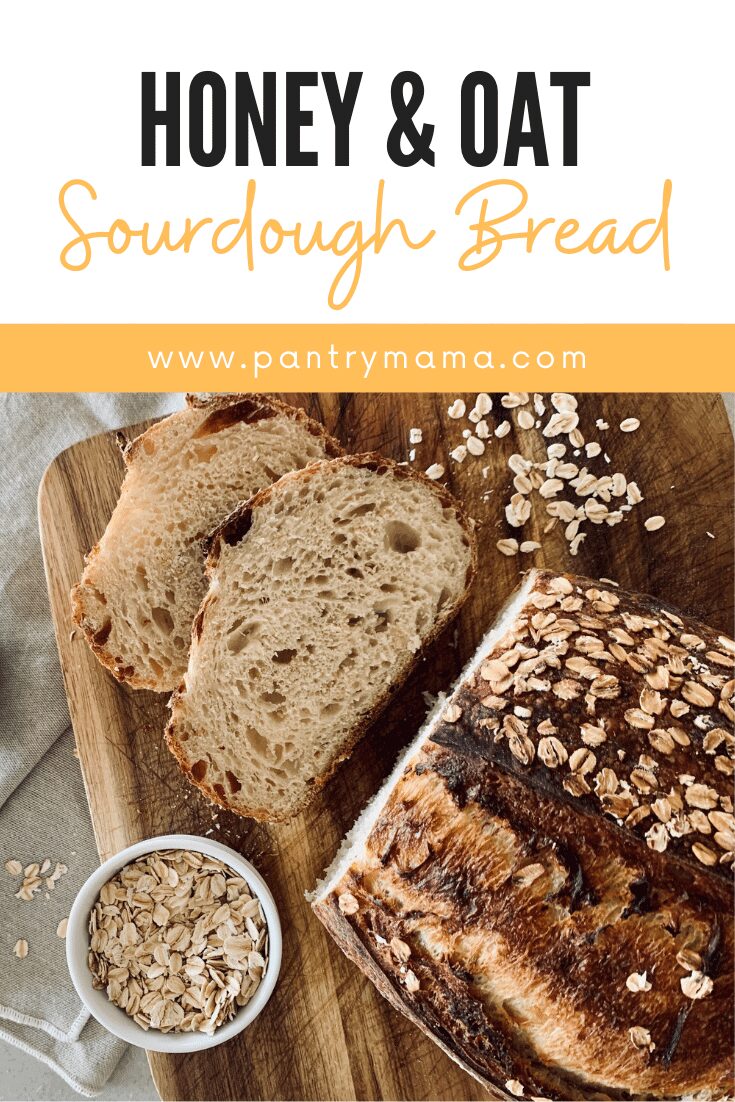 This recipe uses an active and bubbly sourdough starter that has been recently fed.
This easy honey oat sourdough bread combines the sweetness of honey and the nutrient dense goodness of rolled oats.
You can enjoy it toasted with some homemade butter and a hot cup of tea (highly recommended) or even for an open sandwich or under perfectly poached eggs.
It's extremely versatile. I love that it combines some extra goodness with the oats, giving it even more brownie points!
It is a sweeter flavored bread than a plain sourdough loaf, however despite the honey flavors, it can still be paired with savory flavors like poached eggs and bacon - and it makes the most delicious grilled cheese!
How To Get Oats To Stick To The Top of Sourdough
A little trick to get the oats to stay on the top of your loaf, even once it's cooked is to actually use the oats to line your banneton.
You just sprinkle them on the base of the banneton and then place your loaf on top, seam side up.
During the course of the cold ferment, the oats will press into your dough and moisture will help them to stick.
When you tip it out of the banneton, the oats will remain on the top of your dough.
I recommend very simple scoring for this loaf. A single slash will give you a nice belly and ear that opens up without the oats.
The contrast in the cooked bread is really lovely.
You'll find instructions for shaping a perfect sourdough batard here.
Recipe Variations for Honey Oat Sourdough Bread
There are a few recipe variations for Honey Oat Sourdough Bread that you may enjoy. Why not experiment and see if you like them!
I've kept the flour modifications at 100g because this will not affect the amount of water you use, nor the oven spring you are able to achieve.
Honey Oat with Rye - Replace 100g of the Bread Flour with 100g of rye flour for a different flavor.
Honey Oat with Wheat - Replace 100g of the Bread Flour with 100g of freshly milled wheat berries for a real hearty country sourdough taste.
Honey Oat Sesame - Add some sesame seeds to the rolled oats when you add them to your banneton for a different flavor twist.
Honey Muesli Loaf - you could really add some goodness to your bread and replace the rolled oats in the sourdough with your favorite toasted muesli for a delicious breakfast loaf. You could still top your loaf with plain rolled oats.
You can increase the amount of starter if you wish with no affect on the other ingredient measurements.
You can read more about the effects of increasing the starter amount here.
Check out this full guide to adding honey to sourdough for the best results.
If you love this honey oat sourdough bread, you'll also enjoy this Easy Pumpkin Sourdough Bread or perhaps this simple sourdough oatmeal bread is more your style.
These sourdough Anzac Biscuits are also another way to include rolled oats and sourdough starter in your cooking.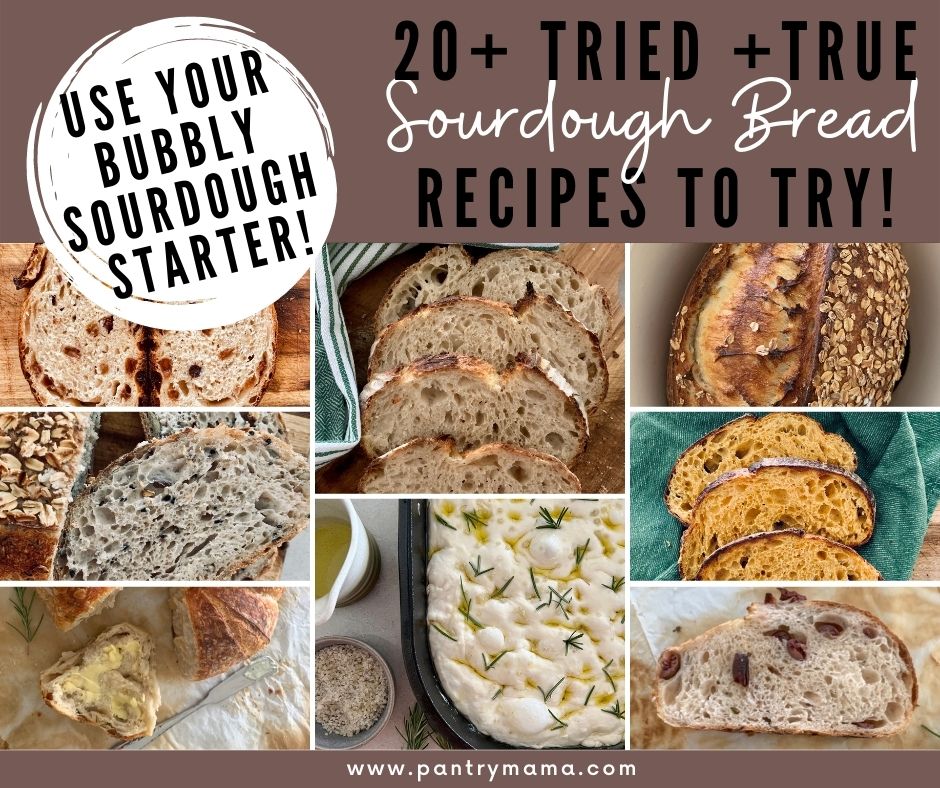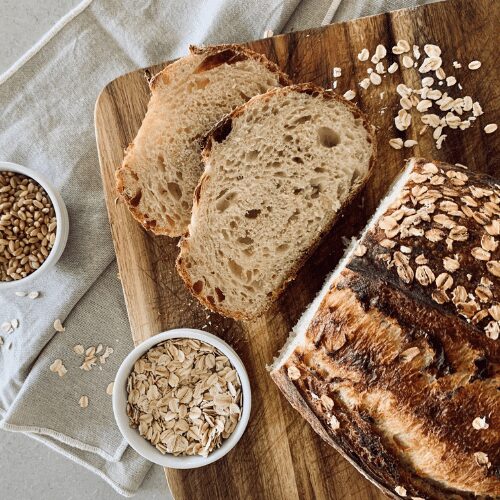 Honey Oat Sourdough Bread Recipe
This fragrant and hearty loaf will become a fast family favorite! It's equally as good for toast as it is topped with perfectly poached eggs. You'll love the variations explored in this recipe.
Equipment
Mixing Bowl

Banneton

Dutch Oven
Ingredients
50

g

Sourdough Starter

Fed and Bubbly

500

g

Bread Flour

50

g

Rolled Oats

plus extra for topping

30

g

Honey

350

g

Water

10

g

Salt
Instructions
Autolyse:

Weigh out your starter, water and honey in a glass or ceramic bowl. Mix them together so that the honey is dissolved in the water (or at least really well distributed).

Then add your flour and salt and mix altogether with the end of a wooden spoon. The dough will be fairly shaggy and only just brought together (see photo).

Cover the dough with cling film or a tea towel and let it sit for around an hour.

Forming Up Your Dough:

Work your way around the bowl, grabbing the dough from the outside, stretching it up and over itself until a smooth ball is formed. You shouldn't need more than about 20-25 folds to form the ball.

Once the dough has formed into a smooth ball, pop the cling film back on and let it rest for 30 minutes.

Stretch & Fold:

You need to add the rolled oats to your dough during the stretch and fold phase.

It's very easy to do! Try to add the oats around the second or third set of stretch and folds.

So do your first set of stretch and folds with the dough as is and then add the oats on the second (or third) set depending on how your dough is behaving.

Try to do around 4 sets of stretch and folds with around 15 to 30 minutes between each set.

Bulk Ferment:

Once you've finished your stretch and folds, place the cling film or damp tea towel back over your dough and let it rest and ferment. The time this takes will depend on the temperature in your home. (see notes)

Shaping Your Dough:

Once your dough has finished its first ferment, it's time to give it some shape and surface tension.

I think this recipe lends itself to a batard however it's completely up to you what shape you would like.

Before you place your dough into your banneton, add a generous sprinkling of rolled oats. Place your shaped dough on top of the oats, seam side up.

The oats will stick to the top of your dough as it cold ferments.

Cold Ferment:

Now your dough is in it's "shaping container" cover it loosely with a plastic bag or damp tea towel and place into the fridge. I use a large plastic bag to cover it - I just reuse it each time.

Try to leave it in the fridge for a minimum 5 hours up to a maximum of around 36 hours. The longer you leave it the better your bread will be! A longer cold ferment creates beautiful blisters on your crust and a deeper sourdough flavour.

Preparing To Bake Your Sourdough:

Once you're ready to bake your sourdough, you'll need to preheat your oven to 230C/450F.

Place your Dutch Oven into the oven when you turn it on so it gets hot. Try to preheat for around 1 hour to ensure your oven is super hot - but you know your oven so just adjust this time if you need to.

Leave your dough in the fridge until the very last minute - placing a cold dough into a hot oven will give you a great "spring".

Baking Your Sourdough:

When your oven is at temperature. Take your sourdough out of the fridge. Gently place it onto a piece of baking paper.

Gently score your bread with a lame, clean razor blade or knife. The oats will mean you can't get too artistic - a single slash or cross is perfect for this loaf.

Carefully take your dutch oven out of the oven. Place the sourdough into the pot using the baking paper as a handle. Put the lid on and place into the hot oven. If you want to you can spritz your dough with extra water before you put the lid on.

BAKE TIME:30 Minutes with the lid on at 230C/450F plus10-15 Minutes with the lid off at 210C/410F

If you're worried about the base of your bread burning, place a baking sheet on shelf underneath your Dutch Oven - it works!

Finishing Your Bake:

When you remove your dough from the oven, carefully remove it from the dutch oven as soon as possible and place on a wire rack to cool.
Notes
Notes on Sourdough Starter -
This recipe is based on you having an active starter that you have fed a few hours before starting your bake. For information on whether your starter is ready,

go here

.
Notes on Stretch & Folds - 

If you are going to do the stretch & folds on your bench top, spray your surface with water mist rather than using flour. 
Notes on Bulk Fermentation -  If your home is warm then your dough will ferment a lot faster and could be done in as little as a few hours. If it's colder, it will take longer, possibly overnight. I would recommend that you try to do your first few bulk ferments during daylight hours so that you can watch your dough closely.
Once you're more familiar with the process - and the temperature of your home - you will be able to do overnight ferments.
You will know your dough is ready to move to the next stage when it has *just* doubled in size. It will be fairly wobbly and full of bubbles. You should be able to see large air bubbles under the surface of the dough.
You don't want to let it go any further than doubled as it will be over fermented. If you want to do an overnight ferment, but your home is warm, consider using a little less starter (ie 25g).
Less starter means your dough will take longer to ferment and you will reduce the risk of over fermenting your dough. You'll find more information on these topics here:

When is my bulk ferment finished?

What is the difference between cold ferment and bulk ferment?

Why does the amount of starter matter?



Notes on Baking - 

If you're worried about the base of your bread burning, place a baking sheet on shelf underneath your Dutch Oven - it works!

If you're worried about your bread not being cooked all the way through, turn the oven off and place your dough straight onto the oven rack.

Leave the door ajar and let your bread rest there for a few hours.

Remember not to cut into your loaf too soon - you'll need to let it cool for at least a few hours (4-6 is best).
Nutrition
Calories:
2131
kcal
Carbohydrates:
431
g
Protein:
68
g
Fat:
12
g
Saturated Fat:
2
g
Sodium:
3908
mg
Potassium:
697
mg
Fiber:
17
g
Sugar:
27
g
Vitamin A:
10
IU
Vitamin C:
1
mg
Calcium:
116
mg
Iron:
7
mg