Choosing to use milk in sourdough bread can have an effect over many parts of the bake - from gluten development through to crumb and crust.
As a liquid containing fats, milk will effect different types of sourdough bread in different ways, but for the most part, it will create a softer loaf with a softer flavor.
Let's explore the effects of using milk in sourdough bread and in sourdough starter.
Is Milk Normally Added To Sourdough Bread?
No, traditional sourdough bread contains just flour, water and salt (and of course sourdough starter).
Milk is not necessary to make delicious sourdough bread. But like most things, it can be added to sourdough to change the crumb, crust and flavor.
Milk is mostly used in sandwich loaves and loaves that require a softer crumb.
Some popular sourdough recipes that use milk to create a soft, enriched crumb are:
Buttermilk is also a popular addition to sourdough. Why not try this buttermilk sourdough bread.
Should You Add Milk to Sourdough Starter?
No, milk should not be added to a sourdough starter. Sourdough starter needs only flour and water to colonise wild yeast.
If you are feeding your sourdough starter twice a day and keeping it at a controlled temperature, it's unlikely that the fats in the milk will go rancid. However the truth is, milk is really unnecessary for establishing a sourdough starter.
If you are adding milk to a mature sourdough starter, the risk of the fats going rancid is minimal due to the good bacteria the starter contains.
However, if you were trying to start a sourdough starter with milk and flour, you may find that it molds and or goes rancid because the bacteria needed to preserve the milk are not yet established.
In addition to this, milk contains lactobacillus bacteria which will produce lactic acid - this is what makes milk goes bad. Starter already has lactic acid producing bacteria, so adding even more will throw the acidity levels of your starter off kilter.
In any case, milk is not necessary for a sourdough starter. It is possible, however, to make a sourdough starter using yogurt.
One caveat here is that you may here of "friendship bread" starter which utilise milk, sugar and flour to feed the starter. These are quite different to a traditional liquid sourdough starter because they use commercial yeast.
What Effect Does Milk Have On Sourdough Bread?
Milk can affect all parts of your sourdough, including the gluten development, crust, crumb and texture, flavor and shelf life.
The amount, ratio and type of milk you use will change the effect the milk has on your bread.
This article concentrates on using dairy milk, but you can of course use plant based milks in your recipes too. These will affect sourdough differently than dairy milks. You can find a list of plant based ingredients for sourdough here.
Here's an in depth look at how milk can affect sourdough bread.
Milk and Sourdough Gluten Development
Adding milk to sourdough bread can have a negative effect on gluten development, which will affect oven spring and rise.
Pasturised milk, while it has been heat treated, has not been heated to a high enough temperature to stop it from damaging the gluten development.
You would need to heat the pasteurized milk you buy from the store above 90C to prevent it from weakening the gluten structure of your sourdough bread. Just be sure to let it cool to room temp (37C) before adding to your sourdough starter mixture.
Other options to ensure that the milk in your dough doesn't have a detrimental effect on gluten development include:
UHT Milk - this milk has been heat treated at temps of up to 150C so it is fine to use in sourdough bread. It's usually cheaper than fresh milk too and is stable at room temperature.

Dried Milk Powder - this milk has been heat treated and dried to a powder form to give it a longer shelf life. You can use 3-10% of flour weight to get the same effect as fresh / liquid milk (read more about baker's math here) however you will need to adjust the liquid (water) component.
When using dried milk powder in sourdough bread recipes, you'll need to adjust the liquid to ensure you have enough hydration in the dough.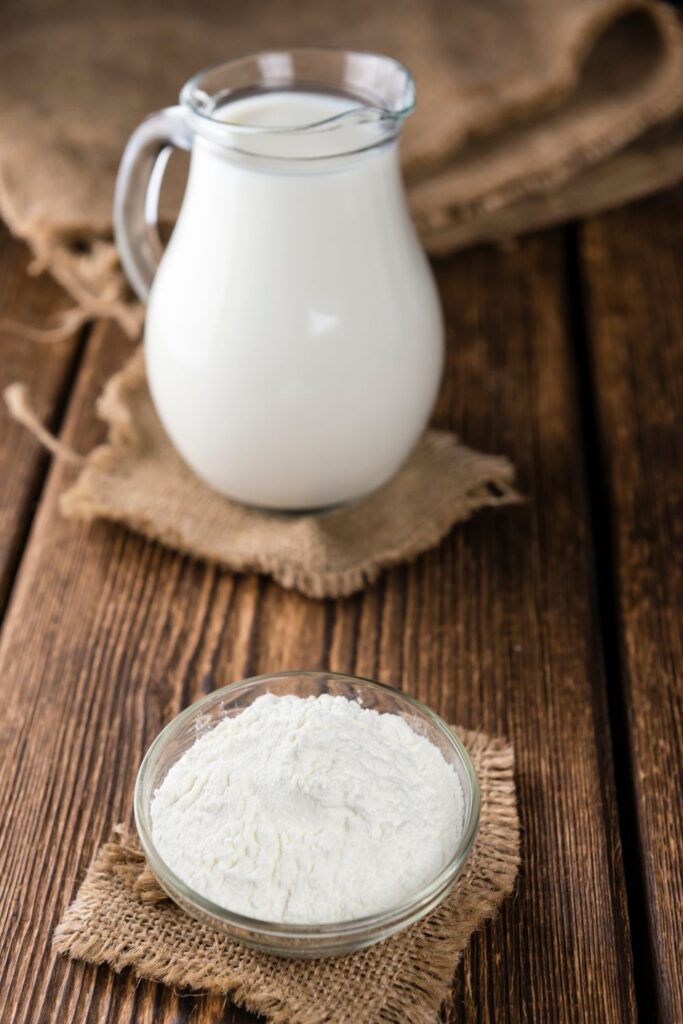 Milk and Sourdough Crust
Milk will give sourdough bread a softer crust that can darken very quickly due to the caramelising lactose sugars.
Adding milk to sourdough bread introduces fats (lipids) and sugars (lactose) to the mixture.
Much like adding butter or oil, milk will give the sourdough a softer crust.
But with the higher percentage of sugars in the dough, the crust will brown a lot faster than without. Adding milk powder to sourdough can be one way to achieve a darker crust.
The lactose in the milk will increase the amount of reducing sugars left in the dough as it goes into the oven. This means that the Maillard Reaction occurs more quickly and can cause the crust to go very dark very quickly.
For this reason, you often need to bake sandwich breads at a lower temperature, but for a longer time.
You can also cover the crust with foil during the bake if it's browning too quickly or starting to burn.
How Does Milk Affect Sourdough Crumb?
Milk will give sourdough bread a softer, tighter crumb which is why it's often chosen for sandwich breads. It will also make the color more creamy.
Unlike traditional sourdough, sandwich breads need a tighter, softer crumb structure to allow them to hold the fillings in. If they had an open crumb structure, all the spreads and fillings would fall out.
The lipids in the milk coat the gluten strands, resulting in a tighter, softer crumb. This will also give you a smoother, more velvety mouth feel.
Does Milk Affect Baking Temperature of Sourdough Bread?
If you are baking sourdough (or in fact any type of bread) containing milk, you may need to reduce the baking temperature and increase the time of baking.
The milk in the dough will mean that it has a higher level of sugar and fat. Sugars and fats can cause the crust to darken more easily and be more prone to burning.
One way to combat this is to reduce the cooking temperature, but increase the time in the oven.
This is a common technique for sandwich bread which is often cooked uncovered in the oven.
Can You Swap All The Water For Milk?
If you are wanting to bake a particular recipe, can you swap all the water and replace it with milk?
You can straight out replace all the water in a recipe with milk, or you could choose to only replace some of it.
Remember that if you only replace half the milk, the effects of the fat, sugar etc will not be as accentuated as if you replaced the whole amount.
How Does Milk Affect Shelf Life of Sourdough Bread?
Surprisingly, using milk in sourdough bread will increase the shelf life of the bread.
The fats contained in the milk prolong the shelf life of your bread. These same fats help to soften the crust and crumb and they will stay softer for longer.
These fats help to delay the staling process of the bread. Bread made with water only (no added fats) will begin to stale almost as soon as it's cooled down.
Using milk in the dough will halt this process as the starches in the bread will not crystallise as quickly.
The way you store sourdough bread made with milk will also make a difference to the shelf life. Soft sandwich breads are best stored in a plastic bag that seals in moisture.
What Effect Does Milk Have On Flavor of Sourdough Bread?
Sourdough bread with milk added to the dough will have a richer flavor, but it's not overpowering.
Milk is often accompanied by butter and eggs, which altogether form an enriched dough which has a soft, velvety texture and rich buttery flavor.
Sourdough brioche is one such recipe.
Adding milk on it's own, perhaps with some sugar (which is typical in a sandwich bread) will give a richer, softer flavor to the bread.
Is It Safe To Leave Sourdough Bread To Ferment at Room Temp if it Contains Milk?
While it's not necessary, nor advisable, to use milk in your sourdough starter, you can use milk in your sourdough bread.
While it does contain fats that can go rancid at room temperature, it is indeed safe to ferment sourdough bread dough containing milk at room temperature.
The good bacteria in your sourdough starter will actually stop the milk in your dough from going rancid. Plus, you would not generally leave the dough out for long enough for it to go bad.
Of course, it's always your choice whether to use milk in your sourdough breads. Some people choose not to because they are nervous of the dough going bad.
I have had success leaving these overnight sourdough waffles to ferment at room temperature. They contain milk instead of water.
Frequently Asked Questions
How do you make sourdough more moist?
Adding milk (and a little butter) will give you a more moist sourdough crumb. You can swap some or all of the water in a sourdough recipe for milk to add moisture to the crumb.
Is it better to make bread with water or milk?
It really depends on the type of bread you are making as to whether you choose to use milk or water. You can add a mix of both milk and water or just one or the other. Milk will affect every aspect of your bread, giving it a softer crumb and crust and often giving it a deeper colored crust too due to the fats and sugars in the milk.
Can you substitute plant based milks instead of dairy milk in bread?
Generally, yes you can replace dairy milk with plant based milks like coconut, almond and oat milk in bread recipes. Using different plant based milks will affect the bread differently than dairy milks, and also impart a different flavor. For example, in this sourdough hot dog recipe, you can use almond or oat milk, along with vegan butter, to create a vegan hot dog roll.
Can you add milk to a sourdough starter as a once off - to create a milk based levain or preferment?
Yes - this would be fine. You're not going to feed your whole sourdough starter with milk. Take a portion of your "mother" starter and feed that with equal amounts of flour and milk to see the effect that it has. You can then use this portion of sourdough starter to make bread or whatever you fancy. But do not feed your "mother" starter with milk - keep that as just flour and water.
What type of milk is best for using in bread and sourdough?
Whole milk is best for adding to bread and sourdough because it has the highest fat content. If you are using semi-skimmed, skimmed or similar you will not get the full effect of the milk on your bread and you won't get the rich, velvety taste as the fat content just isn't there.
Can I use sour milk for baking bread?
Depending on how sour it is - I wouldn't recommend using curdled milk of course. But if the milk is just past its use by, so a little sour smelling or tasting, it should still be ok to add to sourdough and bread dough. Use your common sense on this one.
Want More Information?
Looking for more information on adding things to sourdough bread?