Can you use a stand mixer for sourdough bread? You bet you can!
This article will show you how to use a stand mixer for sourdough bread, as well as the pros and cons of this method.
You'll find a full recipe and process for stand mixer sourdough bread at the end of this post.
It will also outline how to use a stand mixer for other sourdough recipes, including butter rich brioche doughs and sandwich breads.
Can You Use Stand Mixer for Sourdough Bread?
Yes you can absolutely use a stand mixer to make sourdough bread.
One of the most popular choices is the KitchenAid, but any stand mixer with a dough hook attachment can be used.
Sourdough bread can also be made in a Thermomix using these instructions.
There are a few tips and tricks that you'll need to ensure that your stand mixer sourdough bread is a success!
Why Use Stand Mixer for Sourdough Bread?
Using a stand mixer for sourdough bread can be useful for many reasons. Some of the "pros" of using a stand mixer for sourdough are:
minimise hands on dough time
make a larger batch of sourdough in less time by mixing by machine
enables people with arthritis or other medical issues to make sourdough bread without having to use their hands as much.
machines handle higher hydration sourdough more easily
faster sourdough process
outstanding gluten development in a shorter time using a stand mixer - this results in outstanding oven spring when baked.
great for sandwich loaves and butter rich doughs
Negatives of Using Stand Mixer for Sourdough?
There aren't too many reasons not to use a stand mixer for sourdough bread, but if I had to pick some, they would be:
Dough can get too hot causing fermentation to happen too fast (this can happen particularly if making a butter rich dough like sourdough brioche)

You can over knead the sourdough more easily in a machine.

Cleaning the paddle and hook can be a pain with particularly sticky dough.

Need to be careful not to burn out the motor on some brands and models of stand mixers. Read manufacturer's instructions for kneading dough to ensure you don't overwork the motor.
Basic Sourdough Process for Stand Mixer
Using a stand mixer for sourdough bread speeds up the gluten formation process and eliminates stretching and folding.
When using a stand mixer, your basic sourdough process would look like this:
Pre Mix (very short autolyse)
Knead (4 to 6 minutes)
Bulk Fermentation
Shaping
Cold Fermentation
Bake
Cooling
The majority of the process remains the same - but the beginning of the process is much faster.
I find that making sourdough in a stand mixer is very handy if you are time poor. I can knead a loaf while simultaneously cooking dinner for my family. It's then easy to let it bulk ferment overnight.
But my actual hands on time in the process is minimal - which is perfect if you're a busy person!
Dough Hook or Paddle?
When making sourdough bread in a stand mixer, you'll need to use both attachments - the paddle and the dough hook.
The paddle is good for pre mixing the ingredients. You can use it to mix the sourdough starter through the water. It's also handy for dissolving sugar into milk for recipes like sourdough cinnamon rolls.
The dough hook should be used once the ingredients have formed a dough. The hook will knead the dough in the stand mixer bowl.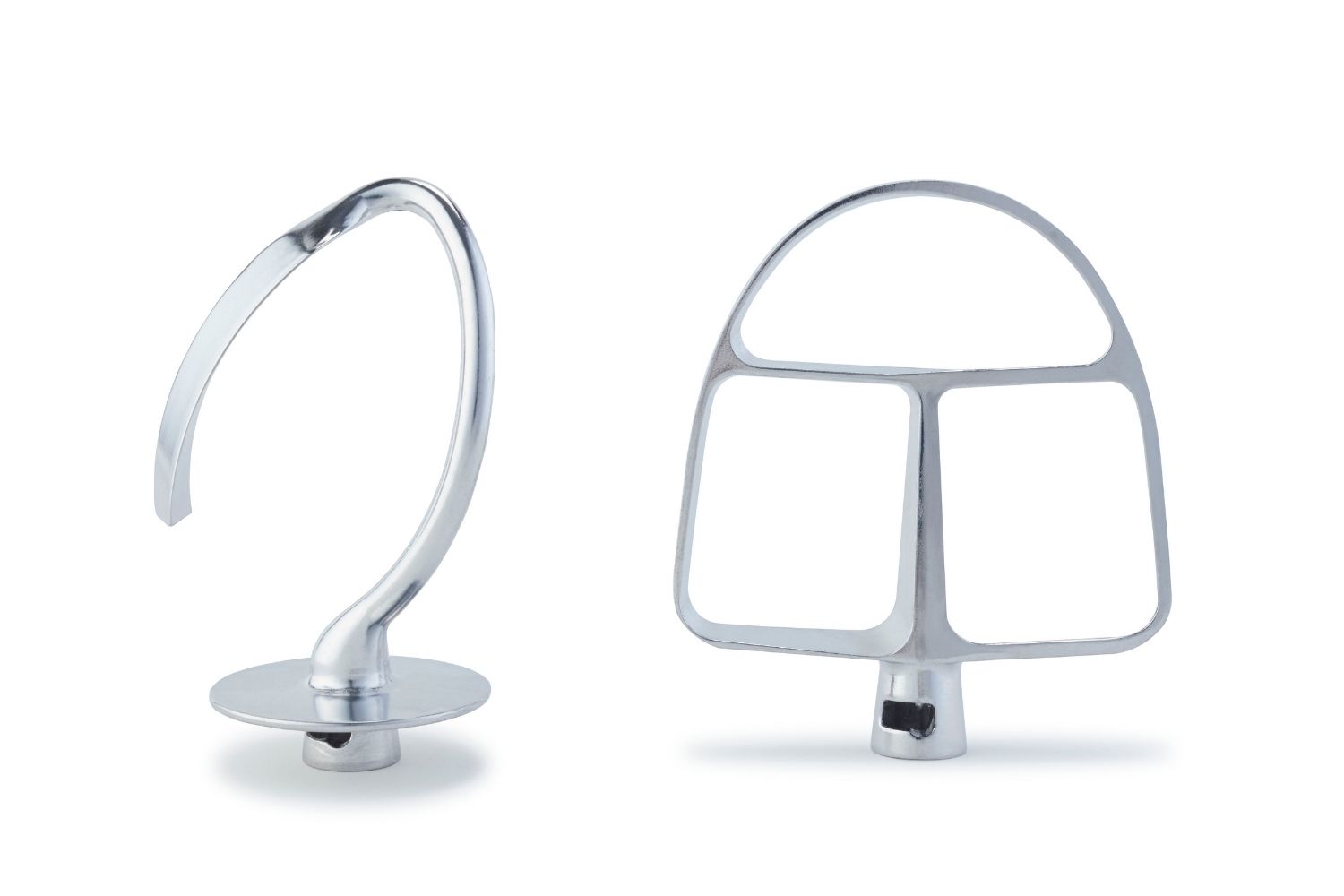 Do I Still Need To Stretch & Fold?
Using a machine to make sourdough bread will eliminate the need to stretch and fold the dough.
The stand mixer will knead the dough and develop the gluten structure for you. 2 minutes kneading in a stand mixer is equivalent to around 10 - 12 minutes of hand kneading.
This is really handy when you are making recipes like sourdough hot cross buns or sourdough brioche donuts.
But when making traditional sourdough bread, you do not need to perform any stretch and folds or coil folds once you've mixed the dough in a stand mixer.
The stand mixer will create a nice, strong gluten structure for you.
All you need to do once it's mixed is allow the dough to bulk ferment.
Adding Flavors in a Stand Mixer
If you are using a stand mixer to make sourdough bread - you may also want to make flavor additions to the dough.
For example you might like to make a fruit loaf or a jalapeño cheddar loaf.
Add the flavors towards the end of the kneading so that they are well incorporated but don't get too thrown around by the dough hook.
Alternatively, you can add your flavors in after the kneading process is complete. Allow the gluten to relax in the dough and then add them by laminating the dough.
Best Tips for Making Sourdough In KitchenAid Mixer
These tips are mainly for making sourdough in a Kitchen Aid Stand Mixer, but can be applied to any smaller stand mixer.
Make sure that the bowl is locked in place before you use the dough hook. It can move around and damage the machine if it's not locked in place correctly.

Don't overload the bowl as the dough can climb the hook and damage the stand mixer.

Use the paddle to do the initial mixing of ingredients.

The dough hook should be used at speed 2, no higher as it will put too much stress on the motor (source - KitchenAid Product Guide)

Knead dough in 2 minute increments - and no more than 4 - 6 minutes total mixing time.
Other Sourdough Recipes To Make in Stand Mixer
While it's possible to make traditional sourdough in a stand mixer, there are also other sourdough recipes which work really well in a stand mixer.
Here are my favorite sourdough recipes to make in a stand mixer:
Frequently Asked Questions
Is a stainless steel Kitchen Aid bowl ok to mix sourdough in?
Yes it's perfectly fine to mix sourdough in a stainless steel Kitchen Aid bowl. It is non reactive and will not affect your bread.
How do you know when kneading is completed?
You'll know when your stand mixer has finished kneading your sourdough when the dough is not sticking to the sides of the bowl. It will form a ball around the dough hook. It will be quite elastic and stretchy and will "slap" the sides of the bowl as it goes around.
Should dough stick to the dough hook?
Sourdough is sticky so it will tend to stick to the hook. Egg rich doughs like brioche will tend to stick more than a lean sourdough. It's normal for sourdough to climb the dough hook while being kneaded in a stand mixer.
How long do you knead sourdough in Kitchen Aid?
You should be able to get your sourdough kneaded in around 4 - 6 minutes in a Kitchen Aid mixer. Allow the dough to knead for 2 minutes before giving the machine a short break. This stops the motor from over working, but also stops the dough from becoming too hot.
Further Reading
Want to know more about making sourdough bread in less traditional ways?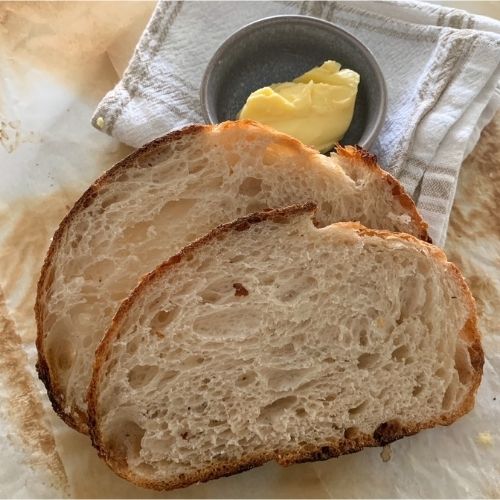 Stand Mixer Sourdough Bread Recipe (Machine Mixed)
This simple recipe uses a stand mixer to make a traditional loaf of sourdough bread!
Equipment
Stand Mixer

Like Kitchen Aid or similar

Banneton

Dutch Oven
Ingredients
100

g

Sourdough Starter

fed and bubbly (can decrease to 50g - see notes)

350

g

Water

you can increase the water up to 380g if you'd like higher hydration dough

500

g

Bread Flour

Baker's Flour

10

g

Salt
Instructions
PRE MIX
Use the paddle attachment for this step: add your sourdough starter and water to the stand mixer bowl. Gently mix together for around 30 seconds or until the sourdough starter is dispersed through the water and the water is cloudy.

Now use the dough hook: add your flour and salt to the sourdough starter and water in the stand mixer bowl. Knead for around 30 seconds or until it comes together in a shaggy dough.
FERMENTOLYSE
Leave dough to rest in the bowl for around 10 minutes (you can leave it up to around 30 minutes if you want to).
KNEADING
Use the dough hook to knead the dough in 2 minute increments. This should take around 4 - 6 minutes.

You'll know when the dough is done when you look into the bowl and see that there is a gap between the dough and the side of the bowl because the dough has formed a "ball". The dough will be elastic when you pull it up and have quite a bit of stretch.
BULK FERMENTATION
Remove the stand mixer bowl from the appliance and cover with a plastic cover. Now leave the dough to bulk ferment (see notes).

It's ok to leave the dough to bulk ferment in either glass, ceramic or stainless steel.
SHAPING
Use a silicon spatula to gently ease the dough out of the bowl. You want it to land "upside down" with the smooth top of the dough at the bottom and the sticky underneath on the top. This will make it very easy to shape.

Using your hands, pull the top the dough into the centre so that it starts to form a ball. Once all the edges are in the centre, turn the dough over so that the smooth dough is at the top. Using the sticky underside, gently tension the dough so that it forms a ball.

You will need a banneton to put your dough into. If you do not have a banneton, then a bowl or basket lined with a floured tea towel is perfectly fine. Make sure your bowl isn't too big though, you want your dough to retain some shape.

Whatever you're using needs to be liberally floured with your rice flour. If you're using a banneton - liberally sprinkle it with rice flour. If you're using a cloth or tea towel, rub the flour into it to ensure it becomes non stick.

Once the dough is shaped into a tight ball, place it into your banneton smooth side down, so your seam is on the top - this way the top of your dough will get the pretty lines from the banneton. If you're using a cloth or tea towel in a bowl it's ok to put your dough with the smooth side up. Just make sure the dough is tight.

Lift your dough around the edges to pop a little more rice flour if you feel it needs it. Just try to handle the dough as little as possible and be really gentle as you really want to preserve all the gases and air bubbles that have formed during your bulk ferment.
COLD FERMENTATION
Now your dough is in it's "shaping container" cover it loosely with a plastic bag or damp tea towel and place into the fridge. I use a large plastic bag to cover it - I just reuse it each time. It's not totally essential to cover it - you can place it in the fridge uncovered if you'd prefer.

Try to leave it in the fridge for a minimum 5 hours up to a maximum of around 36 hours. The longer you leave it the better your bread will be! A longer cold ferment creates beautiful blisters on your crust and a deeper sourdough flavour. It will also ensure your dough forms a skin which makes it easier to score.

Once you're ready to bake your sourdough, you'll need to preheat your oven to 230C/450F. Place your Dutch Oven into the oven when you turn it on so it gets hot. Try to preheat for around 1 hour to ensure your oven is super hot - but you know your oven so just adjust this time if you need to.

Leave your dough in the fridge until the very last minute - placing a cold dough into a hot oven will give you a great "spring".
BAKING
Now it's time to bake!

When your oven is at temperature. Take your sourdough out of the fridge. Gently place it onto a piece of baking paper. Make sure that you make the baking paper big enough to use the edges as a handle to lower to dough into your Dutch Oven.

Gently score your bread with a lame, clean razor blade or knife. At minimum a large cross is sufficient, but you can get as artistic as you like. Try to score it fairly deep to ensure the dough opens up.

Carefully take your dutch oven out of the oven. Place the sourdough into the pot using the baking paper as a handle. Put the lid on and place into the hot oven. If you want to you can spritz your dough with extra water before you put the lid on.

If you're worried about the base of your bread burning, place a baking sheet on shelf underneath your Dutch Oven - it works!

BAKE TIME:Bake your sourdough for 30 minutes with the lid on at 230C/450F plus10 minutes with the lid off at 210C/

When you remove your dough from the oven, carefully remove it from the dutch oven as soon as possible and place on a wire rack to cool.
Notes
Notes on Amount of Starter and Bulk Fermentation -
The time you need to bulk ferment will depend on the temperature in your home. This recipe has 100g of starter so will ferment at a good rate as it is slightly higher hydration. You can leave it overnight, but you'd need to have a cool home, so under 18 degrees. You don't want it to go over while you're sleeping. You can read more about how the amount of starter affects your sourdough here.
If you are a beginner - I would recommend reducing the starter amount to 50g!
Your dough is ready to move onto the next stage when it's doubled in size, slightly domed on top and is full of bubbles. It will be soft and pillowy and NOT sticky on top! You can read more about bulk fermentation here.
Nutrition
Serving:
100
g
Calories:
1896
kcal
Carbohydrates:
382
g
Protein:
63
g
Fat:
9
g
Saturated Fat:
1
g
Polyunsaturated Fat:
4
g
Monounsaturated Fat:
1
g
Sodium:
3905
mg
Potassium:
501
mg
Fiber:
13
g
Sugar:
2
g
Vitamin A:
10
IU
Calcium:
88
mg
Iron:
5
mg