Sourdough pumpkin crackers are such a lovely way to use up sourdough discard. With a delicious crunch and pretty color, they are the perfect fall cracker to adorn your holiday charcuterie boards.
Sourdough crackers are such an easy way to get a little more sourdough into your busy week. With no time to wait, they are the perfect way to use your sourdough starter without any fermentation time.
You can use these sourdough pumpkin crackers in so many different ways, you'll love the way their rich color enhances anything you pair them with.
Sourdough Starter or Discard - Which Should I Use?
You can get great results from these crackers using either active sourdough starter or sourdough discard.
Truth be told, most days, I feed my starter just to make more crackers (they disappear fast around here).
I feel that crackers taste better when made with a bubbly, active sourdough starter.
However, they still work incredibly well with sourdough discard. You just need to remember that if it's been around a while, your discard will become acidic and sour and this can affect the taste of what you're baking.
Not so bad with a savory recipe, but it can affect sweet recipes.
The best way to decide between active starter and discard is whatever makes your life easier.
If you've got a lot of discard to use up - perfect, use that! If you have time to feed your starter before you go to bed so it's bubbly when you wake - wonderful, use that!
How to Make Sourdough Pumpkin Crackers
Making pumpkin sourdough crackers is a fairly easy process. These crackers are made by forming a dough which is rolled out, cut and baked.
Rolling out the dough to make crackers is an easy process. The secret is to get the dough nice and thin so that you get crispy crackers, rather than doughy, chewy crackers.
I also think that one of secrets to successful pumpkin crackers is making sure you don't have the oven up too high so that the crackers burn.
Pumpkin contains sugar which means that if you have the oven too hot, the crackers will burn before they're done.
Here's the basic process for making sourdough pumpkin crackers:
Add sourdough starter, flour, salt, butter and pumpkin puree to a mixing bowl.
Bring the ingredients together until it forms a smooth, pliable dough. You might need to work the dough around the bowl to ensure all the flour is incorporated.
If it's too sticky to bring together, add a little more flour.
Roll out the dough to a thin layer and press in pumpkin seeds if using.
Top with olive oil and salt.
Pumpkin Puree - Canned or Homemade
The recipe for these crackers was made using homemade pumpkin puree. Mainly because I cannot buy canned pumpkin where I live.
If you have access to canned pumpkin, it's definitely the easier option.
Plus it is a bit less liquid than homemade pumpkin puree.
The pumpkin puree for these crackers was made with Kabocha Pumpkin. I used my Thermomix and cooked the pumpkin at speed 1 - Varoma temp before cooling and blitzing it into a puree.
If you are using homemade puree, I suggest letting the puree cool at room temp first, then putting it in the fridge (this stops the condensation which adds liquid to the puree).
Let it get cold in the fridge and pouring off any liquid which forms on the top before using the more solid part of the puree.
If you put it in the fridge too soon and it does accumulate some condensation on the lid, just wipe the lid with a paper towel to stop the liquid adding into the puree.
Equipment for Making Sourdough Crackers
Sourdough crackers are super easy to make. But there are few things that will make the process a little easier.
Having parchment paper on hand can help to stop the dough sticking to your rolling pin. It also helps to lift the cracker dough onto the baking tray with ease.
A cracker roller is also a worthwhile investment if you make a lot of crackers. This one is the same as the one you can see in my photos and will give you neat little triangular crackers. I use it for all of my sourdough cracker recipes.
A pastry brush also helps to brush olive oil over the dough before you bake it.
If you have trouble getting the dough nice and thin, you can run it through a pasta machine, but honestly, I only ever use a rolling pin and those arm muscles.
Flavor Variations for Sourdough Pumpkin Crackers
Sourdough pumpkin crackers are truly beautiful in their simplicity. Whether you choose to add pumpkin seeds or not, they are tasty just as they are.
But if you're feeling a little adventurous, why not try these flavor variations:
Sprinkle the dough with black sesame seeds and salt instead of pumpkin seeds.
Add ground black pepper along with salt when before baking (you could even add some ground black pepper to the dough if you love a little spice).
Sprinkle the dough with fresh rosemary and salt before baking for a savory taste sensation.
Sourdough Pumpkin Crackers for Thanksgiving
These beautiful sourdough pumpkin crackers would be perfect for a Thanksgiving charcuterie board or even given as a gift in a beautiful jar.
You could pair them with a batch of these pumpkin sourdough grissini.
These little cellophane bags are perfect for packaging up these crackers for gifting.
Making a batch of cinnamon sugar pumpkin sourdough crackers would be such a lovely gift for neighbours, friends and family.
Their autumnal hues make them pride of place in any fall food celebration.
You'll find my favorite sourdough recipes for Thanksgiving here.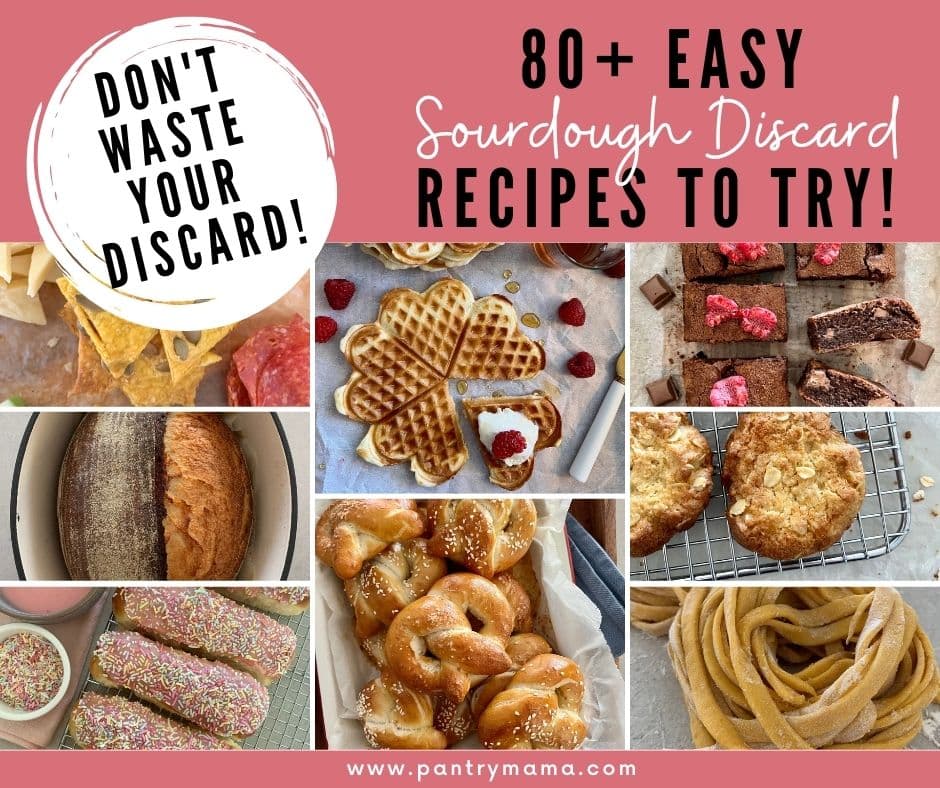 Further Reading
If you love this recipe using pumpkin, you might like to try these ideas: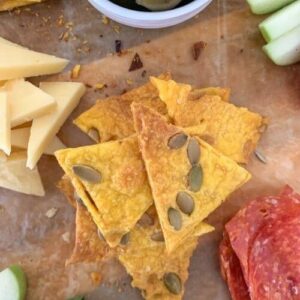 Sourdough Pumpkin Crackers
These simple sourdough pumpkin crackers use a lot of discard - and taste amazing! They are delicious any time - but are absolutely perfect for Thanksgiving and Fall charcuterie boards.
Equipment
Digital Scales

Mixing Bowl

Rolling Pin

Cracker Roller

Baking Trays
Ingredients
150

g

Sourdough Starter

can use active or discarded starter

100

g

Pumpkin Puree

170

g

All Purpose Flour

35

g

Butter

soft

5

g

Salt

20

g

Olive Oil

for brushing

10

g

Sea Salt

for topping

Pumpkin Seeds

for topping (optional)
Instructions
Preheat oven to 320F/160C. You want a cooler oven for these crackers to ensure they don't burn.

Add sourdough discard, flour, butter and pumpkin puree to a mixing bowl and bring the ingredients together to form a pliable dough (see notes). If it's too soft and doesn't come together, add a little more flour.

Divide the dough into two portions (this makes it easier to roll).

Place each ball onto a piece of parchment paper and flatten out with your hands into a rough rectangle. If it becomes sticky, dust with a little flour.

Now roll out to a thin sheet of dough using a rolling pin. You want it around 1/16" or 1.5mm thick. The thinner you can get it the better because thick crackers won't cook properly and won't crisp up in the oven.

If the dough is sticky, dust with a little flour. See the notes below for additional info to help.

If you are going to use pumpkin seeds, sprinkle these over the dough and gently press them in using your rolling pin.

Use a cracker roller to perforate dough. If you don't have a cracker roller you can use a cookie cutter or knife to cut into crackers and then pierce each one with the tines of a fork.

Place each parchment paper with dough on top onto a baking sheet. This recipe will generally need two baking trays.

Brush dough with olive oil and sprinkle with salt.

Bake at 320F/160C for around 25 minutes or until crackers are golden and crisp. The pumpkin puree can cause the crackers to burn easily so keep an eye on them.

Let the crackers cool on a rack before breaking into individual pieces.
Notes
Notes on Discard - 
This recipe is based on a sourdough discard from a 100% hydration sourdough starter.
Notes on Pumpkin Puree - 
If you can purchase canned pumpkin puree, it will give you a more consistent texture as it has a lower water content. I have made these crackers with homemade pumpkin puree because canned puree is not available where I live. Homemade pumpkin puree will require a little extra flour when you roll the crackers out.
Notes on Mixing Dough - 
This dough is easy to mix in a bowl with a dough scraper or your hands. I find it easiest to use a dough scraper until the dough has just come together. I then use my hands to knead the dough in the bowl until all the ingredients are combined. Don't add additional liquid - just keep kneading til it comes together. Depending on the hydration of your pumpkin puree, you may need to add a little extra flour when you go to roll the cracker dough out.
Alternatively, you can place the dough in the fridge before you roll it out.
Nutrition
Serving:
8
g
Calories:
20
kcal
Carbohydrates:
3
g
Protein:
0.4
g
Fat:
1
g
Saturated Fat:
0.4
g
Polyunsaturated Fat:
0.1
g
Monounsaturated Fat:
0.4
g
Trans Fat:
0.02
g
Cholesterol:
1
mg
Sodium:
101
mg
Potassium:
7
mg
Fiber:
0.1
g
Sugar:
0.1
g
Vitamin A:
274
IU
Vitamin C:
0.1
mg
Calcium:
1
mg
Iron:
0.2
mg