If you're looking for a fast and easy whole wheat sourdough discard sandwich bread - you've found it!
This easy recipe utilises nutritious whole wheat flour to create a soft sandwich loaf, worthy of only the best fillings.
This bread takes around 2 to 3 hours from start to finish, depending on how warm your house is. It utilises 100g of sourdough discard and is perfect for slathering in homemade butter!
If you'd prefer a white sourdough discard sandwich bread, you'll find an easy recipe here.
Baking with Whole Wheat Flour
Whole Wheat flour (or wholemeal flour in some parts of the world) is generally considered more nutritious.
Whole wheat flour is different to wheat flour in that the bran and germ are not removed before grinding into flour - meaning that it contains the whole wheat kernal.
Because this type of flour contains more parts of the grain, it absorbs water differently than regular wheat flour.
For this reason, this recipe contains a little more water than a white loaf would.
If you're looking for a more traditional sourdough loaf using whole wheat flour, this easy whole wheat rye sourdough might be just your style.
Baking in a Bread Tin
You'll need to bake this whole wheat sourdough discard sandwich loaf in a bread tin or loaf pan.
In the photos of this blog, I've baked 2 smaller loaves (I just divided the dough into two at shaping).
The bread tins I've used are Jamie Oliver 1 Litre loaf pans (purchased from a supermarket). The dimensions of the tins I've used are - 7cm x 12cm x 19cm (2.75" x 4.72" x 7.87").
The closest tin I could find to these measurements is this one (you'll need two).
You can also bake this bread as a single loaf in a regular bread tin. I recommend this one. Its measurements are 9 x 4 x 4 inches. This recipe will fill the tin and the dough will rise above the lip before you put it in the oven.
If you want to bake this loaf and have it without a rounded top, you'll need to use a pullman tin with a lid, like this one. This tin is larger than the open one above, because the dough can't rise above with the lid on, so it needs to be slightly larger.
You can chose the tin that best suits your needs.
Shaping Whole Wheat Sourdough Sandwich Bread
Shaping sandwich bread is really easy compared to higher hydration sourdough bread.
You will be able to do it with your eyes closed.
I've put together a full color photo guide to shaping sourdough sandwich bread here. You'll just need to scroll down the page a little.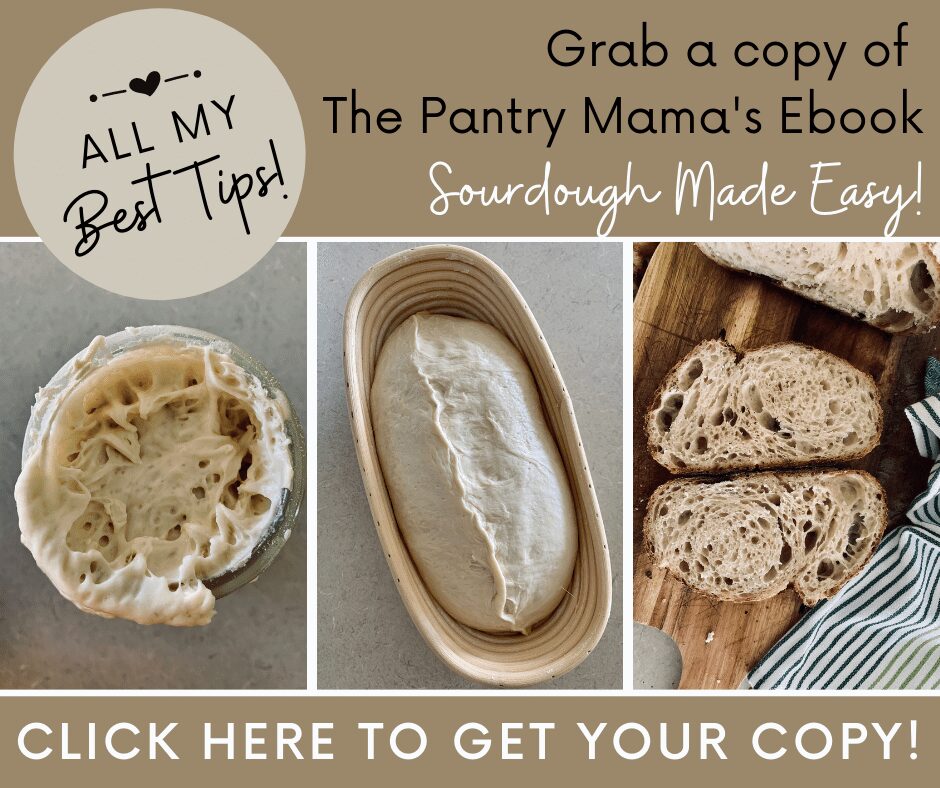 Whole Wheat Sourdough Discard Sandwich Bread Variations & Substitutions
There are lots of ways to jazz up this easy whole wheat sourdough discard sandwich bread. Here are a few suggestions:
Honey Whole Wheat - Add 40g of honey to the recipe (add it at the beginning when you add the water). The honey will give this bread such a delicious taste - and oh the aroma that will fill your kitchen!
Multigrain Sandwich Loaf - Add 50 to 100g of your favorite seeds to the mixture when you add the butter, sugar and salt. Seeds like sesame, sunflower, pumpkin and flax work really well.
Oat & Rye - Substitute 20g of whole wheat flour with rye flour. Before you bake the bread, spray the top with water and sprinkle on a few handfuls of oats. Spray the oats again before baking to ensure they don't burn in the oven.
Equipment for Making Whole Wheat Sourdough Discard Sandwich Bread
Here is a list of equipment that will make your sandwich bread making much easier.
Sandwich Loaf Tins – you'll need a selection of sandwich loaf tins to bake your bread. Having 2 or even 4 is a great idea if you want to bake several loaves at once (and this bread freezes really well).

Plastic Bread Bags – these are a great way to store and freeze your bread and fantastic if you're making multiple loaves at once.

Bread Slicing Guide – these are super handy if you're wanting perfectly sliced sandwich bread.
Further Reading
If you love this recipe, you might enjoy these:
Want to make this sourdough discard loaf in a bread machine? You'll find a how-to-guide here.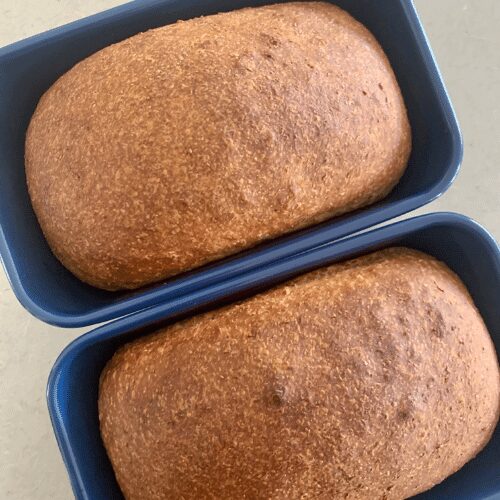 Whole Wheat Sourdough Discard Sandwich Loaf Recipe
This quick and easy whole wheat sourdough discard sandwich bread will give you soft and squishy whole wheat bread with a delicious crust.
Equipment
Stand Mixer

Digital Scales

Bread Tin
Ingredients
100

g

Sourdough Discard

unfed sourdough starter

265

g

Water

400

g

Whole Wheat Flour

100

g

Bread Flour

or All Purpose Flour

10

g

Salt

20

g

Sugar

60

g

Butter

room temperature

7

g

Instant Yeast
Instructions
Combine the sourdough discard, water and flour into the bowl of your stand mixer or Thermomix and mix until it forms a shaggy dough (around 30 seconds will do it). Leave the dough to rest for 30 minutes.

See recipe notes for using a stand mixer vs hand kneading.

Now add the salt, sugar, butter and yeast to the bowl and knead the dough for around 3 to 6 minutes.

You want the dough to be elastic, silky and slapping the sides of the bowl. Just keep the mixer going until you achieve this. If you are using a stand mixer you'll need to use your dough hook attachment for this step.

Now you need to let your dough rise. You are using instant yeast as the leavening agent in this recipe, rather than sourdough/wild yeast, so it will rise very quickly, particularly if your home is warm.

Leave it for around an hour (it will take longer if your house is cooler). You want it to double.

While you're waiting for the dough to double, lightly butter a sandwich loaf or pullman pan so it's ready to go when the dough is shaped.

Once the dough has doubled, tip it out onto the counter top with the smooth side underneath and the sticky side on the top. Gently ease the dough out into a rectangle. It should be quite easy to do this as the dough is very elastic.

Now you want to shape your dough into a sandwich loaf. This is fairly easy. Make sure that the short side of the rectangle is in front of you. Fold each side of the dough into the middle, then roll the dough into a tight log with the seam underneath. Tighten the top of the dough by putting your hands at the base and pulling the dough towards you, without lifting if off the countertop.

Once the dough is shaped, gently place it into the buttered loaf tin. Leave the dough to rise until it's just above the rim of the tin.

This will take around an hour, depending on the temperature of your home.

Once the dough has risen, you'll need to bake your loaf.

Turn your oven on and set the temperature to around 180C/350F.

Let it warm for around 10 minutes. Spray the top of your dough with some water mist and place into the oven.

Make sure that there's plenty of room for it to grow in the oven as it will generally keep rising.

Bake your bread at 180C/350F for around 40 to 45 minutes or until the loaf is golden brown.

Remove from the loaf tin and allow to cool on a wire rack.
Notes
This recipe is a "sourdough discard" recipe - so it's based on using unfed sourdough starter that you accumulate when you're building a sourdough starter or when you feed it ready to bake.
Notes of Using a Mixer vs Kneading
I choose to use a stand mixer or Thermomix for this recipe as it allows me to achieve a super stretchy, silky dough that gives my sandwich bread a soft, airy texture - perfect for sandwich bread!
You can knead this recipe by hand - you will need to knead the dough vigorously until it becomes stretchy and silky.
Nutrition
Calories:
2251
kcal
Carbohydrates:
383
g
Protein:
68
g
Fat:
61
g
Saturated Fat:
33
g
Trans Fat:
2
g
Cholesterol:
129
mg
Sodium:
4331
mg
Potassium:
1634
mg
Fiber:
47
g
Sugar:
22
g
Vitamin A:
1537
IU
Vitamin C:
1
mg
Calcium:
178
mg
Iron:
16
mg