This quick and easy sourdough discard sandwich bread is a great sourdough recipe to have in your repertoire for when you need to use up some discard or you need a loaf of bread in a hurry. You'll get a super soft, light and airy crumb with a soft crust that's easy to eat.
This bread takes around 2 to 3 hours from start to finish, depending on how warm your house is. It utilises 100g of sourdough discard and is perfect with homemade butter!
If you'd like a more artisan style sourdough discard bread, you could try this recipe.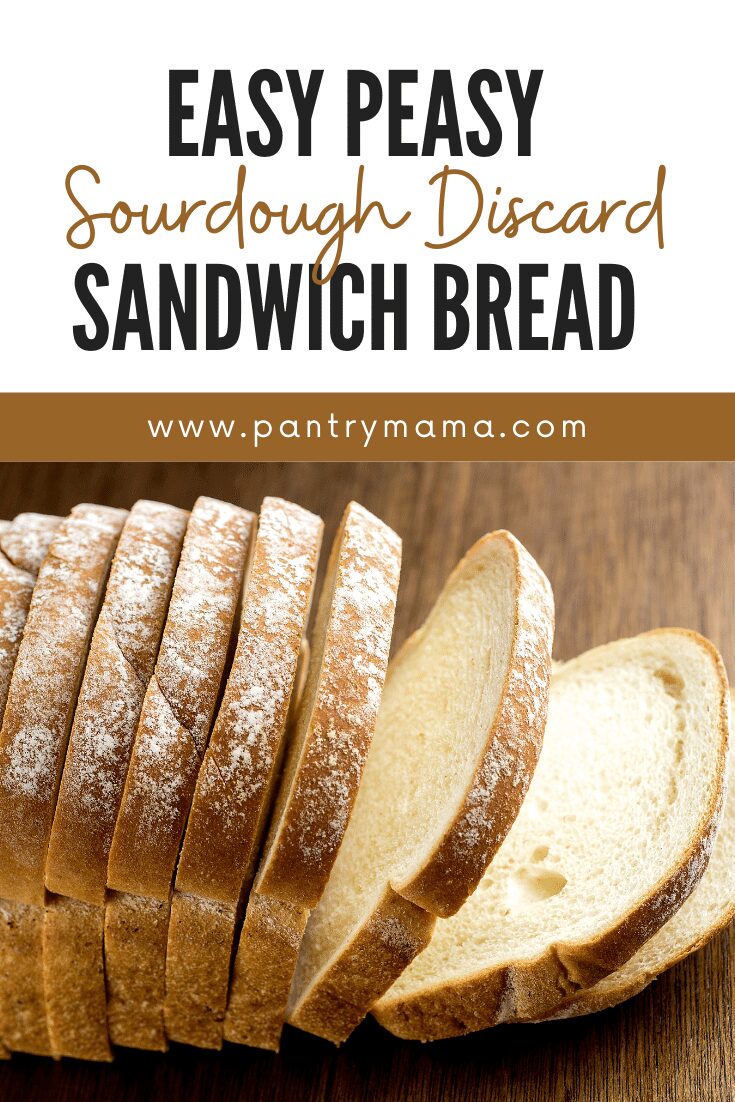 Which Loaf Tin Should You Choose?
Sandwich bread needs to be baked in a tin. You can use an open tin or a tin with a lid or "Pullman Bread Tin". If you use an open tin, you'll achieve a rounded top to your sandwich loaf. This is what I prefer to bake in.
You can however also use a Pullman Tin. This has a lid that slides on top and will yield you a square sandwich loaf, more like the bread you would buy in the supermarket.
No matter what type of tin you use, this loaf is best in a tin around 4 x 8 x 4 inches. This is the one I use (I just leave the lid off as I think it is nicer with the rounded top).
Sometimes my sourdough sandwich discard bread comes out looking like a mushroom ... it makes my kids love it even more because they think it's hilarious! Spot the squishy toddler fingers!
Shaping Sandwich Bread
Shaping sandwich bread is so so easy. Of course, like anything, there are a million ways to complicate it, however I like to stick to this simple method – it's so easy my kids can do it!
Remember that this dough will feel different to traditional sourdough sandwich bread because it has been leavened with instant yeast. It may feel stickier than traditional sourdough, but if it is, you just need to flour your hands a little.
You need to pop your fermented dough out onto the kitchen counter so that the smooth side is underneath and the sticky side is on the top. Gently ease the dough out into a rough rectangle, with the short edge closest to you.
Then roll the dough up into a log and tuck the ends under. Try and create as much tension as you can on the top of the loaf. This will help it to develop a lovely shape and crust when it's baked.
Then simply plop the log into your buttered tin.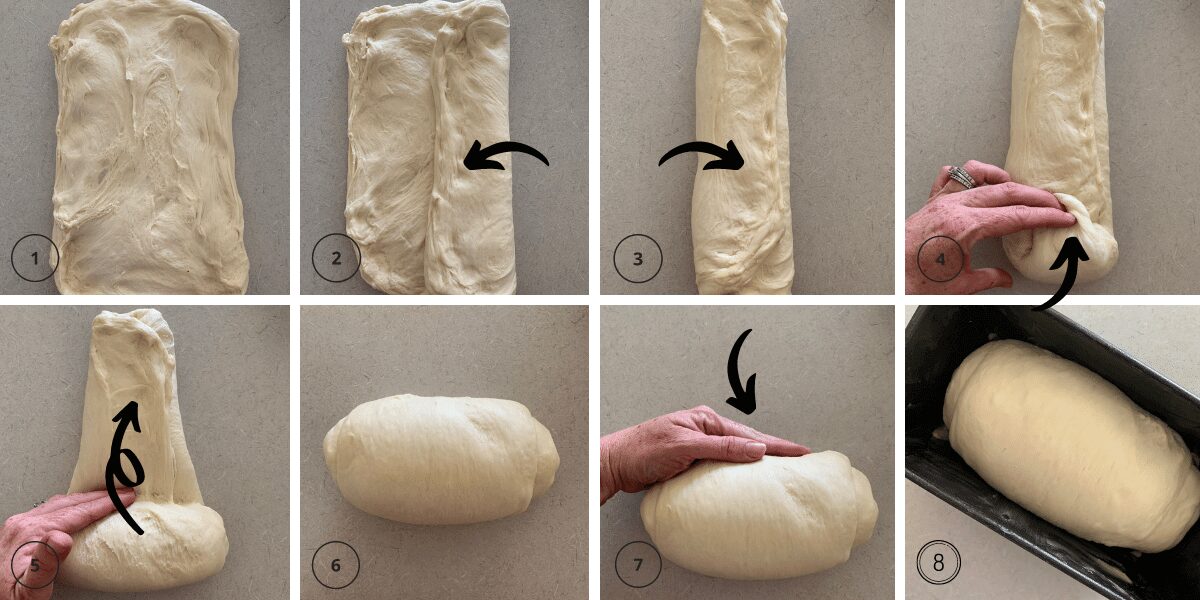 Freezing A Sourdough Discard Sandwich Loaf
You can easily double or even triple this recipe (when you look at the recipe below, you can easily click the button and it will automatically calculate the measurements for you). Doubling the recipe means you can use one loaf and freeze the other.
These plastic bread bags are perfect for freezing your sandwich bread in.
This yeasted version of sandwich bread is super handy to have in your recipe collection when you realise you have to pack school lunches ... and there's no bread!!
It also freezes really well - as a whole loaf or even sliced and made into sandwiches.
To store frozen sandwiches, you can place each sandwich in a plastic ziploc bag. This makes them easy to place in lunchboxes in the morning. You could also wrap them in parchment paper and store in an airtight plastic container in the freezer if you don't want to use ziploc bags.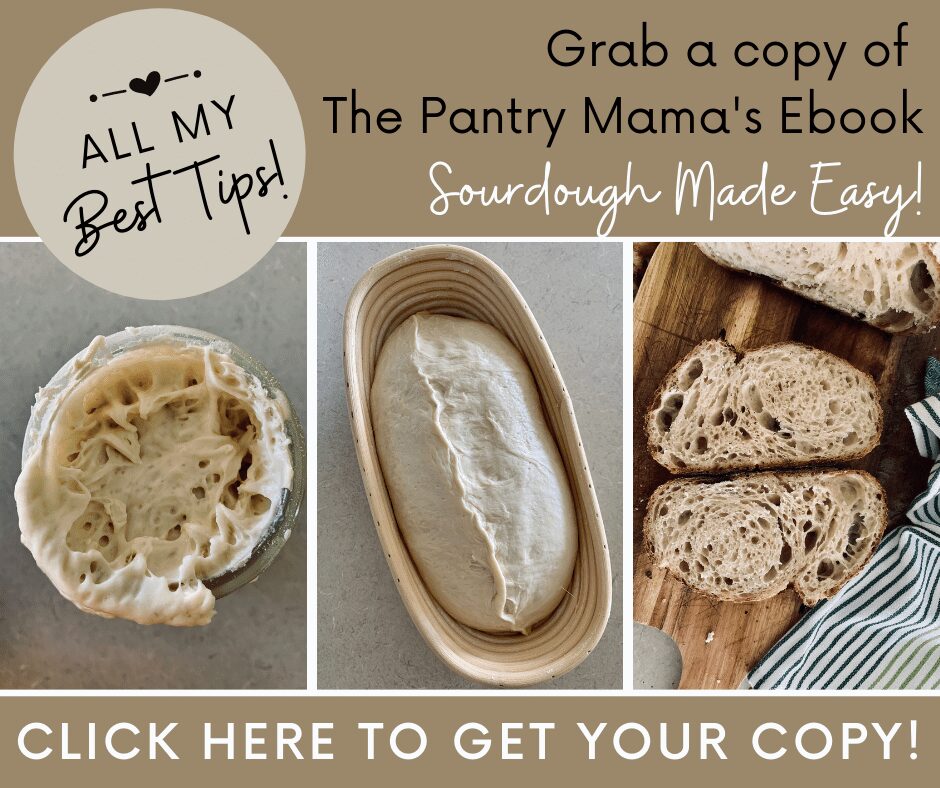 Slicing Sourdough Discard Sandwich Loaf
Slicing a sandwich loaf can be tricky, especially if you want perfect slices. However, you can purchase a bread slicing guide which makes things much easier. You could even use an electric knife or electric food slicer.
Making Sourdough Discard Sandwich Bread in the Thermomix
I use a Thermomix to make this discard bread, however you could use any stand mixer. I find that using a mixer creates a super soft crumb - and makes this a quick easy recipe to use.
I use the dough function on the Thermomix (any version will work TM31, TM5 or TM6).
As with the traditional sourdough method in your Thermomix, clean up is easy - just add some water to the jug afterwards and run at speed 10 to clean the blades.
For the all the best sourdough recipes to make in your Thermomix, check out this guide.
Sourdough Discard Sandwich Bread Variations & Substitutions
There are lots of ways to jazz up this easy sourdough discard sandwich bread. Here are a few suggestions:
Honey & Oat Sandwich Loaf - Add 20g of honey and 50g of oats to the mixture when you add the butter, sugar and salt. If you'd like to add oats to the top you should do so when you put the dough into the tin - spray the loaf lightly with water so the oats stick to the top.
Multigrain Sandwich Loaf - Add 50 to 100g of your favorite seeds to the mixture when you add the butter, sugar and salt. Seeds like sesame, sunflower, pumpkin and flax work really well.
Wholemeal Sandwich Loaf - Replace half the Bread Flour with Whole Wheat or Wholemeal Flour for a more hearty country style sandwich loaf. You could top with sesame seeds when you place it into the tin.

Make this loaf into sourdough discard rolls by following these instructions.
Equipment for Making Sourdough Discard Sandwich Bread
Sandwich Loaf Tins – you'll need a selection of sandwich loaf tins to bake your bread. Having 2 or even 4 is a great idea if you want to bake several loaves at once (and this bread freezes really well).

Plastic Bread Bags – these are a great way to store and freeze your bread and fantastic if you're making multiple loaves at once.

Bread Slicing Guide – these are super handy if you're wanting perfectly sliced sandwich bread.
Further Reading
If you love this recipe, you might enjoy these:
Want to make this sourdough discard loaf in a bread machine? You'll find a how-to-guide here.
Prefer baking with whole wheat flour? You'll find a whole wheat version of this recipe here.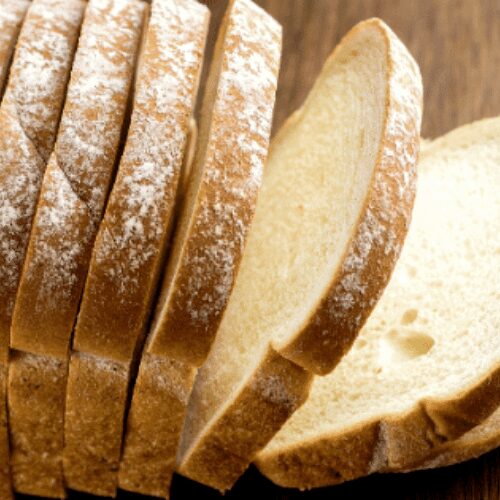 Sourdough Discard Sandwich Loaf Recipe
This quick and easy sourdough discard sandwich bread will give you soft and squishy white sandwich bread that makes the perfect sandwich.
Equipment
Stand Mixer

Digital Scales

Bread Tin
Ingredients
100

g

Sourdough Discard

unfed sourdough starter

250

g

Water

500

g

Bread Flour

or All Purpose Flour

10

g

Salt

20

g

Sugar

60

g

Butter

room temperature

7

g

Instant Yeast
Instructions
Combine the sourdough discard, water and flour into the bowl of your stand mixer or Thermomix and mix until it forms a shaggy dough (around 30 seconds will do it). Leave the dough to rest for 30 minutes.

Now add the salt, sugar, butter and yeast to the bowl and knead the dough for around 3 to 6 minutes.

You want the dough to be elastic, silky and slapping the sides of the bowl. Just keep the mixer going until you achieve this. If you are using a stand mixer you'll need to use your dough hook attachment for this step.

Now you need to let your dough rise. You are using instant yeast as the leavening agent in this recipe, rather than sourdough/wild yeast, so it will rise very quickly, particularly if your home is warm.

Leave it for around an hour (it will take longer if your house is cooler). You want it to double.

While you're waiting for the dough to double, lightly butter a sandwich loaf or pullman pan so it's ready to go when the dough is shaped.

Once the dough has doubled, tip it out onto the counter top with the smooth side underneath and the sticky side on the top. Gently ease the dough out into a rectangle. It should be quite easy to do this as the dough is very elastic.

Now you want to shape your dough into a sandwich loaf. This is fairly easy. Make sure that the short side of the rectangle is in front of you. Fold each side of the dough into the middle, then roll the dough into a tight log with the seam underneath. Tighten the top of the dough by putting your hands at the base and pulling the dough towards you, without lifting if off the countertop.

Once the dough is shaped, gently place it into the buttered loaf tin. Leave the dough to rise until it's just above the rim of the tin.

This will take around an hour, depending on the temperature of your home.

Once the dough has risen, you'll need to bake your loaf.

Turn your oven on and set the temperature to around 180C/350F.

Let it warm for around 10 minutes. Spray the top of your dough with some water mist and place into the oven.

Make sure that there's plenty of room for it to grow in the oven as it will generally keep rising.

Bake your bread at 180C/350F for around 40 to 45 minutes or until the loaf is golden brown.

Remove from the loaf tin and allow to cool on a wire rack.
Notes
This recipe is a "sourdough discard" recipe - so it's based on using unfed sourdough starter that you accumulate when you're building a sourdough starter or when you feed it ready to bake.
I choose to use a stand mixer or Thermomix for this recipe as it allow me to achieve a super stretchy, silky dough that gives my sandwich bread a soft, airy texture - perfect for sandwich bread!
Nutrition
Calories:
2335
kcal
Carbohydrates:
386
g
Protein:
63
g
Fat:
58
g
Saturated Fat:
32
g
Trans Fat:
2
g
Cholesterol:
129
mg
Sodium:
4331
mg
Potassium:
582
mg
Fiber:
14
g
Sugar:
22
g
Vitamin A:
1509
IU
Vitamin C:
1
mg
Calcium:
102
mg
Iron:
5
mg